Review of the year in maps
The year 2022 was an eventful one. At the turn of the year, we would like to take a look at the past year together with you. We have collected the most important events and developments of the year 2022 for you in the form of maps from the «Atlas of Switzerland». We wish you a lot of fun, a happy new year and look forward to welcoming you again in 2023.
---
January
The Covid-19 variant Omikron is spreading. Many people get vaccinated with a booster.
Covid-19 pandemic in Switzerland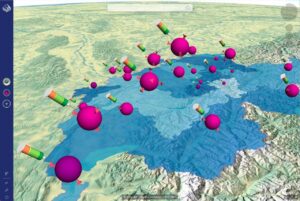 ---
February
Invasion of Ukraine by Russia on Feb. 24, 2022, four years after the occupation of Crimea.
Helvetic revolution an Invasion of the French troups 1798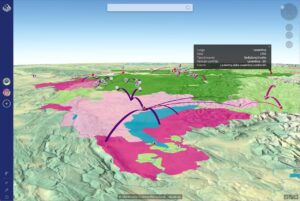 ---
March
Due to the war in Ukraine, the Olympic Games in Beijing take a back seat. From March 4 to 13, the Paralympic Games will take place.
---
April
Solar cells for the night? Researchers from Stanford have developed something: Solar Panels That Make Electricity at Night are Finally Here – And They're Cheap and Don't Need Batteries
In addition, wind and solar energy cover 10% of the world's electricity supply: Wind And Solar Generated a Record 10% of the World's Power in 2021 – Victory for Paris Agreement
Solar electricity production: making use of roof space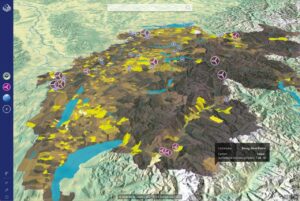 ---
May
The running events SOLA in Zurich and the GP Bern are finally taking place again, after a 2 year break!
---
June
The summer is very dry and hot. As a result, the forest also suffers.
State of the Swiss forest (NFI)

---
July
After two pandemic years, more distant foreign destinations are becoming attractive to travel to again. In some cases, however, there were long waiting times and flight cancellations.
Scheduled flights: passengers transported on international flight routes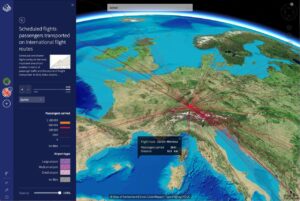 ---
August
In August, inflation reaches 3.5% in 2022, the highest level since the previous month [Switzerland: Inflation rate from 1987 to 2027]. Banks are gradually saying goodbye to negative interest rates.
---
September
On September 10 at 17:58, an earthquake occurred near Mulhouse (FRA) with a magnitude of about 4.7 on the Richter scale, which was also felt in large parts of German-speaking Switzerland.
Earthquakes: noticeable events, magnitude 2.5+, since 1975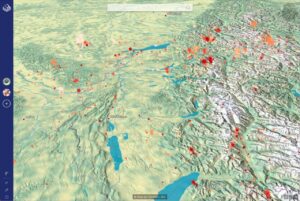 ---
October
Lack of gas supplies from Russia leads to a massive increase in electricity prices. Measures are taken to save energy.
---
November
On November 15, the eight billionth person is born in the world. More than one thousandth of the world's population lives in Switzerland (8.6 million inhabitants), which, however, accounts for only one ten-thousandth of the world's area (41,000 km² to 510 million km²).
---
December
On December 18, the final of the Men's World Cup took place in Qatar; Argentina won in a penalty shootout against France. In addition to FIFA, several other sports federations have their headquarters in Switzerland.
International sport associations with headquarter in Switzerland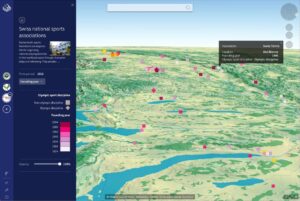 ---